Welcome to JJ's Ponds!
---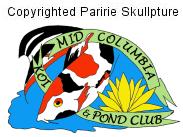 JJ's Ponds are located in Richland, WA
President, past V.President & past newsletter editor of the Mid-Columbia Koi and Pond Club, located in the S.Central Washington State, Zone 7. Jan now serves the club as their contact person and AKCA rep. In 2000 she was awarded Koi Person of the Year for her club and in 2002 the Ed Fujimoto Award given to the person within their local club for promoting and supporting it. For more information about the club, e-mail Jan at jjspond16 (at) jjspond (dot) us.
For those who live in the Mid-Columbia you might want to join Jan's e-mail list called JJ's Ponding Tidbits, please ask her about it.
Jan has been a certified Master Gardener since 1996. In 2000 the Master Gardener Foundation took on the building of a Demonstration Garden. This Garden included a fairly large demonstration water garden, bio-filter, stream and waterfall, that Jan Co-Chaired the building of. After many hours and one weekend where some volunteers were known to put in 16 hrs. in one day, the pond was completely mortared around the edges over the liner. Jan was pleased to announce that they didn't, nor even felt the need to, drown anyone in the pond after it was filled. ;o) For 2003 Jan is the Co-chair of Pond Maintenance with the devoted help of Judy Schorzman. For pictures click on Demon. Pond photos to the left.
Update: Demonstration pond unfortunately was removed and a waterfall outdoor classroom replaced it many years after Jan and Judy were involved.
In 2002, Jan took an on-line class through the AKCA (Associated Koi Clubs of America) with a full weekend wet-lab held in Portland. She is now a bona fided KHA (Koi Health Advisor) since 2002.
E-mail Jan:
jjspond16 (at) jjspond (dot) us
My pond photos - Take a look at my ponds!
My lily pond photos - My Lily pond photos.
Friends' photos - K30, Bonnie of NJ, Wendy Richmond, and Bonnie Bushaw.
Demonstration pond photos - Photos from the demonstration pond.
Demonstration pond filter - Photo and parts needed to build the filter in the demonstration pond.
My filter - Take a look at a diagram for my filter system. Also includes a fake flower pot filter photo from Terry in Texas.

Koi & Pond Cards - Pam Sharp's Koi & Pond Greeting cards. *Note: This will take you to another web site.*
Links - My recommended links.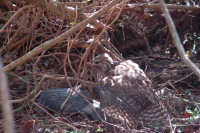 The Hawk & the Heron by Jack Sloan (Click to enlarge) -- 01/21/2006