Demonstration pond filter
---
HOME PAGE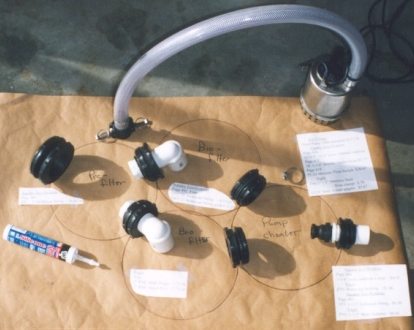 **Take a look at photos of the Demon Pond!**
Filter for the Demonstration Pond:
Pictured are four circles (not to scale) resembling the needed four 55 gallon food-grade plastic barrels. Also 1 tube of 100% clear silicon to use around fittings.
Parts are listed in order to above picture left to right.
AES = Pentair / Aquatic Eco-Systems
Pre-filter
AES pg. 491
One 3" bulkhead fitting (TF7) 16.60 ea
Bio-filters
AES pg. 491
Four 2" bulkhead fitting (TF6) 9.10 ea
Four 2" bulkhead fitting gasket (GK5) 1.20 ea
Lowes
Two 2" PVC Male Plugs 1.21 ea
Two 2" PVC Street ELL 2.73 ea
100% silicon, for use on threads connecting bulkheads and around the outside of gaskets after tightened.
AES (The filter media)
pg. 337 - Eight sheets of Reticulated filter foam (PF7) 30.32/sheet
Using the Ebara 3000 (137.50) from Koi Village
Pump Chamber
AES pg. 456
One 1-1/4" male Quick Disconnect Fittings x mipt (Q12FP) 4.10 ea
Eagle/Lowes
One PVC Reducing bushing 1.46
AES pg. 491
One 1-1/2" bulkhead fitting (TF5) 6.90
Eagle/Lowes
One PVC 1-1/2" Male Adapter .40
Pump connections
AES
pg. 456 - One 1-1/4" hose x female Quick Disconnect Fittings (Q12CP) 8.75
pg. 475 - Three Feet of 1-1/4" flexible braided hose (TVR125) 3.75/ft
pg. 419 - One Mercury Float Switch 36.65
Eagle/Lowes
Two 1"-2" Stainless Steel Hose Clamps .76 each
One 1-1/4" hose X mipt adapter 3.67